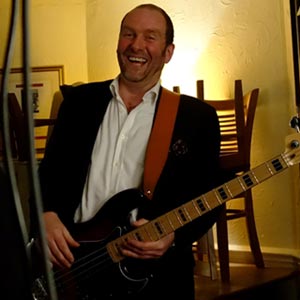 Our bassist and songwriter Richard Chamberlain has passed away suddenly and unexpectedly.
Rich was a dear friend and fundamental member of the band. We are shocked and deeply saddened and for the foreseeable future do not feel we are able to continue with the band. We are sure that he would want us to continue playing and re-group and hope we will be able to do so when we feel the time is right.
We have to cancel our future bookings and will separately contact our bookers and explain the circumstances.
Thank you to everyone who has followed and supported us. We have had an amazing time.
---
Swing with soul
Whether dancing all evening or hosting quieter events, this five piece band will make it work for you. Influenced by the swing greats and covering songs from more contemporary, headier vocalists like Melody Gardot and Madeleine Peroux, Ruby & The Ruff Cuts are ideal for parties, weddings and corporate events.
Blending captivating vocals, soulful guitar and melodic saxophone with a foot-tapping rhythm section, this band swings!